Long haul flights in economy are the worst. You're cramped, which eventually makes you cranky.
These flights are not fun, but usually well worth the annoyance.
If you're a budget traveler (like me), you're going to fly in economy (a lot), and there's nothing wrong with that.
However, in order to get comfortable, you're going to have to get creative.
I've been on multiple long haul flights, and I have some awesome tips to help you get comfortable and actually sleep!
Are you ready to learn how to survive long flights in economy?
Good. Let's get started!
What Does Long Haul Flight Mean?
---
Before we get into the meat of the post, you might be wondering what a long haul flight is and what differentiates it from any other flight.
A long haul flight is a flight that lasts 6+ hours.
Believe it or not, I have only been on two long haul flights. One to Ireland and one coming back from Ireland.
On those two flights, I made plenty of mistakes, which I will share with you so that you can hopefully avoid those same mistakes.
Fortunately, I was flying with some very well traveled friends, and I learned a lot from them, which I will also share with you!
What to Wear to be Comfortable
As you probably know, your main goal is comfort when picking an outfit for your long haul flight.
You'll likely sleep in this outfit, so it had better be comfortable; otherwise, you'll be irritated the entire 6+ hour flight because you can't get comfortable and fall asleep. Then, you'll arrive at your destination tired and cranky. Not a great way to stay a vacation!
However, I know that you probably also value style.
You could easily wear sweatpants and a sweatshirt and be comfy, but if the frumpy look makes you cringe, I've got some great suggestions that will keep you looking cute while still staying comfy!
When choosing pants, you should pick stretchy pants: yoga pants or leggings would be perfect.
If you dislike wearing tight things for long periods of time or if you can't sleep in tight things, you should purchase some flare yoga pants and wear those.
Now, not just any old leggings/yoga pants will work. You need to make sure that the waistband is comfortable to sit in for long periods of time.
I have leggings that I hate wearing because of the waistband, so if you buy new leggings or yoga pants for the flight, make sure that you wear them for an entire day before you commit to wearing them on the flight.
On my flight, I wore my Nike leggings, which I absolutely adore.
I was super comfortable in them, and they offered a bit of compression, which was nice.
Plus, there were also made out of a wicking material, which helped me stay cool in those cramped seats.
Most of my flights were pretty chilly, but every now and again I would get hot. Plus, if your plane get grounded on the runway, you'll be super glad you wore those Nike's because it can get pretty toasty!
These are my all time favorite leggings! They are so soft, comfy, and flattering. Plus, they're super affordable.
I adore my Nike leggings! Like I said before, these are what I wore on my flight, and I was very comfy!
If you choose to wear leggings, I would recommend a tunic style shirt.
It looks super cute with leggings but is also sinfully comfortable.
If you're traveling to a cold destination from a warm one, you should probably dress in layers.
So, the shirt you wear on the plane should be short-sleeved. Then, you can carry around your big jacket, since it'll take up too much space in a suitcase.
This works well because you have a jacket if your cold and you save space in your luggage.
If you wear a sweater or long-sleeved shirt, you run the risk of getting hot during the flight or your layover(s).
I made the mistake of wearing a long-sleeved t-shirt on my first long haul flight. There were many moments when I regretted that choice.
I would have been much more comfortable in a short-sleeved shirt.
If you decided to wear flare yoga pants, a simple graphic t-shirt will work well.
I love the ones from Target because they are so cute, soft, and affordable!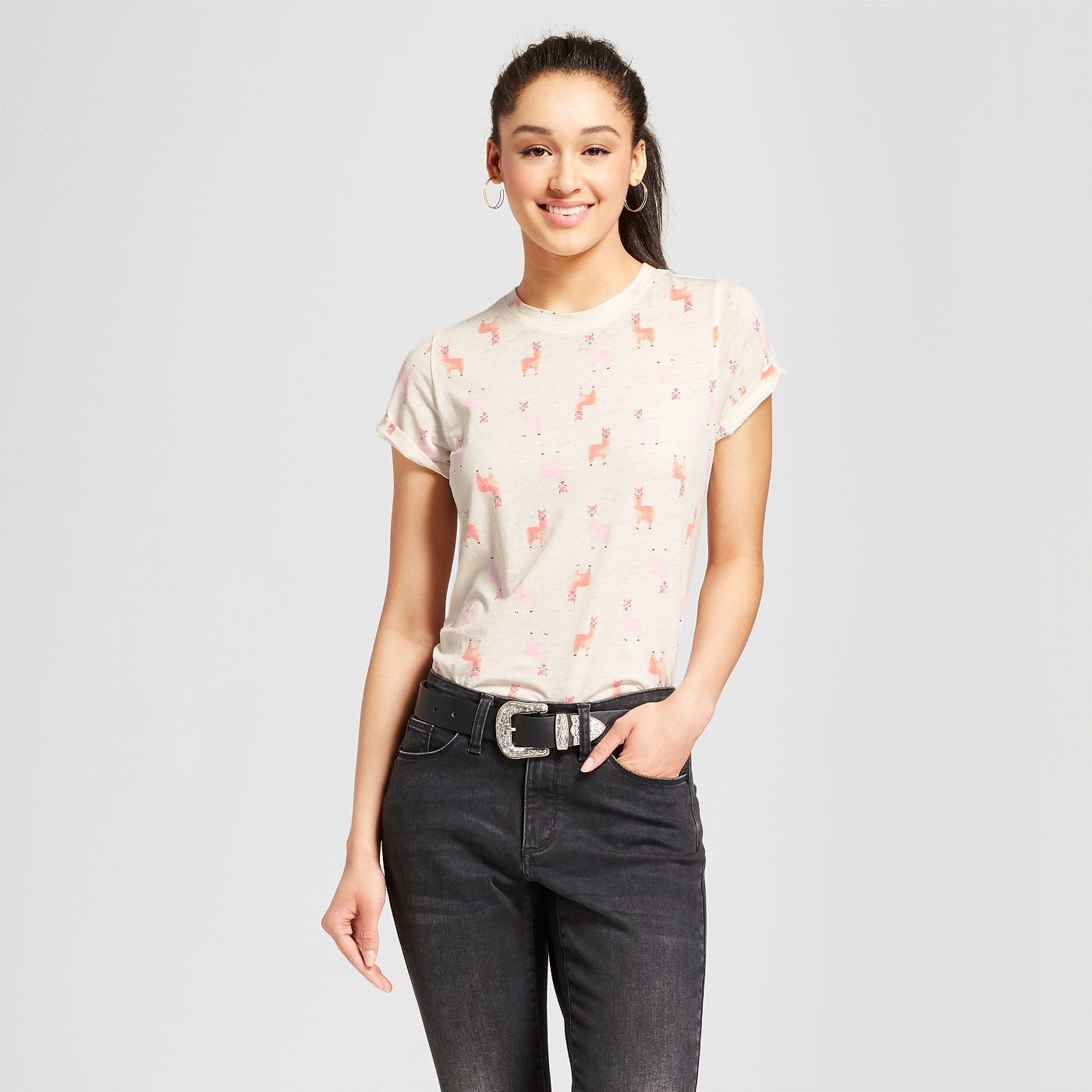 You can't see it from the image, but this shirt has little pink Llamas all over it! Yes, you need this in your life. What are you waiting for? Get it from Target.com now!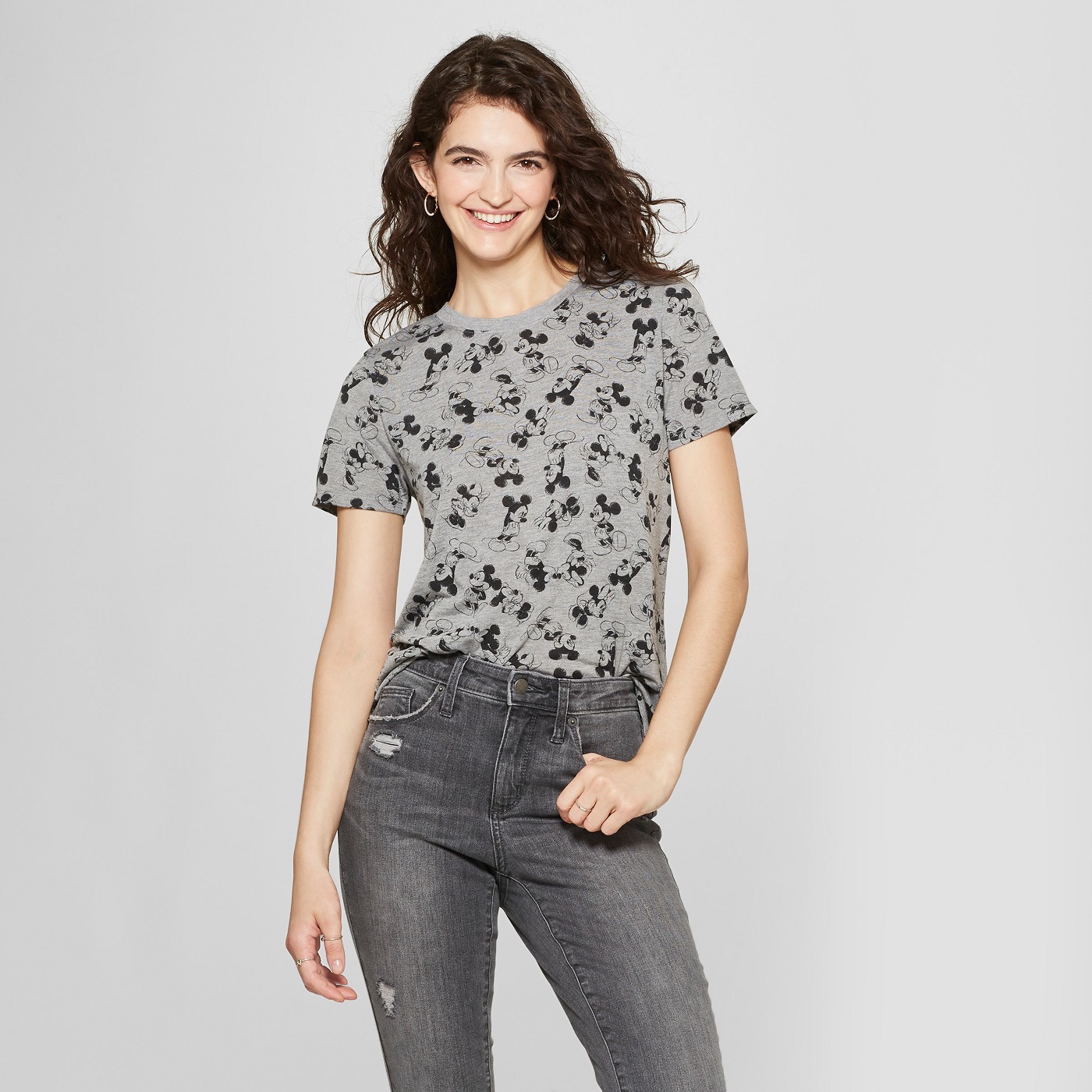 This t-shirt is so cute and comfy! It's a little longer in the back than the front, which means it goes perfectly with black leggings. Get it from Target.com now!
I Want This Mickey Mouse Shirt!
Right now, you're probably expecting me to tell you to choose the most comfortable shoes you own and wear those.
But, I'm not gonna.
Sorry.
Instead, you should wear the biggest pair of shoes you plan on taking with you.
This will save a ton of space in your suitcase, which is particularly important if you're only traveling with a carry on.
For example, I took one pair of shoes with me to Ireland.
I made sure that they would meet all of my needs while I was there, and then I just wore them for the entire trip, flight and all.
Curious as to which shoes I wore?
Boots! (They were most similar to these boots.)
They weren't exactly hiking boots, but they were water resistant, which was important since I was visiting Ireland in the Spring.
Plus, I was going to be doing a lot of walking in Dublin and at the Cliffs of Moher, so I needed to choose shoes that were versatile.
Worried about being uncomfortable on the flight?
Well, you shouldn't be!
You can take your shoes off.
At first, I thought that the lady next to me was going to be totally grossed out, but she actually took her shoes off, too!
Just don't forget that feet tend to smell, so wear wool socks or socks designed for exercise. These usually don't hold smells.
Above all else, I recommend closed-toed shoes for travel. It helps keep your feet safe, and I feel like it's more sanitary when you're going through security.
Therefore, my top two suggestions are boots and flats.
However, if you're totally against wearing closed toes shoes on an airplane, it's perfectly acceptable to wear sandals.
All of these shoes would be great choices. Just make sure that you purchase them far enough in advance so that you can break them in.
These boots are essentially the newer version of the ones I own. I love them, and they have served me well. I use them for all weather conditions.
I use the boots to the left as rain boots, but if you're going somewhere rainy and don't need the other functions of the boots to the left, these are a great choice!
Toms are comfy and versatile flats. They're great for walking, so they'd make a great choice for your vacation.
Sandals aren't my first choice for air travel, but if you really don't want to wear closed toed shoes, these are my favorite.
How to Pack a Carry On Only
---
Packing a carry on only can save you a good amount money on your entire trip if you purchased a plane ticket that doesn't include a checked bag at no additional charge.
Fortunately, it's pretty easy to pack only a carry on.
You just need to be intentional with what you pack.
You can't say, "Oh, well, I might need this," and then stuff it in your suitcase.
If you don't know you'll need it, don't pack it.
Just remember that you'll most likely have the luxury of purchasing anything you end up needing and not packing at your destination, which is reassuring.
The weather will have a huge impact on what you pack, so make sure that you check the forecast right before you start packing!
---
If the forecast calls for cold weather, make sure you pack a lot of thin, warm layers.
These layers will help you stay warm, but won't take up nearly as much space as a bunch of sweaters.
Choose a few heavier items to go over your thin, warm layers but under your coat.
You'll also want to pack some long johns.
Before you pack anything, you'll want to try on the outfits you've picked out for the trip.
Make sure that your layers fit well together.
You'll definitely want to try on the long johns underneath the pants you plan on wearing as well just to make sure they fit.
I've made the mistake of not checking on multiple trips, which results in me only being able to wear one of the pairs of pants I packed.
I found that the long johns I had fit perfectly well underneath my Nike leggings, which was the perfect amount of warmth for Ireland in the spring.
(And, if you're judging me for wearing long johns in the spring, keep in mind that I'm a Floridian and break out my winter coat once it gets into the 60s.)
To save on space, make sure you carry your big coat on the plane and wear the biggest pair of shoes you're bringing.
Warm weather destinations are easier to pack for than cold weather ones.
Everything is less bulky.
For warm weather destinations, I recommend that you bring moisture wicking clothes, which tends to be workout apparel.
This type of clothing is especially necessary if you're planning on doing any sort of outdoor activities.
Again, you'll want to wear your biggest pair of shoes on the flight.
Also, you'll want to bring a light jacket with you on the plane.
If the forecast calls for rain, don't get discouraged!
Instead, be prepared!
Bring a rain coat (the longer the better) and some water resistant shoes.
You will hardly even notice the rain since you were smart and packed accordingly!
Sometimes, the forecast might be a bit unpredictable.
Just take a look at the averages for the time of year you're visiting in and use that to help you pack.
Knowing what it tends to be like will help you decide what you'll likely need and what you likely won't need.
---
When possible, it's best to pack items that can serve two purposes.
For example
If you're visiting a cold, rainy destination, you should pack a warm, water-resistant coat instead of packing a coat and a rain jacket.
Pack a comfy pair of shorts you can wear to sleep and around town.
Hopefully those examples help get your creative juices flowing because there are all sorts of versatile items for you to pack!
On my trip to Ireland, I did not use packing cubes, and that's a decision I sorely regret.
It would have made everything so much easier!
Especially since I was staying in Miami for a night before flying to Ireland.
So, I had to repack my suitcase before even leaving for Ireland. Yikes.
I think that packing cubes would have helped immensely because I could have packed different cubes with outfits for each day. Then, all I would have needed to do is pick up a cube and changed, instead of rifling through my suitcase looking for an outfit.
I don't think that packing cubes save you much space; I mean, maybe they do, but I haven't seen evidence of it yet.
However, they definitely help you organize everything, which is pretty important.
I've said it before, and I'll say it again: wear your biggest pair of shoes!
If you can get away with only one pair shoes, you should definitely take advantage of that by not packing any and just wearing the pair you want on the plane.
I know that this isn't always possible, but it's certainly ideal.
However, packing sandals and wearing tennis shoes or boots is the next best thing!
I'm the type of girl who needs options.
Deciding to only take one pair of shoes to Ireland was scary for me.
However, it was liberating.
I knew what I would be doing, and I chose to bring a single pair of shoes that would be perfect for every activity.
It was nice not having to carry around extra stuff that I didn't need.
Don't Pack Shampoo and Conditioner
You're probably thinking I'm crazy right now.
But, I'm not.
If you're staying at a hotel, they will likely provide shampoo, conditioner, and body wash.
If you're staying in an Airbnb, there is a possibility that they will provide you with those, as well.
In your carry on, you're allowed a 1 quart sized bag that can hold as many 3 oz containers as possible. That's it.
It's not however many 1 quart sized bags you'd like, which is something I didn't realize when I went to Ireland (I had 3). 😂
Fortunately, I didn't have to throw any away (don't ask me why).
Since you can only bring a few 3 oz containers of liquids, I would recommend that you bring the most important ones to you.
For example, I can easily replace my shampoo and conditioner; however, I would be hard pressed to replace my frizz controlling serum.
So, next time, instead of packing shampoo and conditioner, I will pack the liquids that are much more important to me and more difficult to replace.
Then, I can leave it at the Airbnb for the next travelers. Or, throw it away, if I'm at a hotel.
How to Get Comfortable on a Long Haul Flight
It's no secret that long haul flights can be uncomfortable.
So here are some tips and long haul flight essentials to keep you as comfy and happy as possible!
Use Your Personal Item as a Footrest
Using your personal item as a foot rest helps elevate your feet, which is incredibly useful when you're trying to go to sleep (especially if you're on the shorter side like me).
So, in business class, you have a footrest, which helps you get a lot more comfortable when it comes time to sleep.
Since economy doesn't have this simple luxury (wtf), you can do your best to emulate it by using your personal item as a footrest.
This is important, even if you're traveling somewhere warm.
Why?
You'll likely get cold on the plane, especially while you sleep.
You might actually need it in your destination.
When I flew to Ireland, I was glad to have my big coat to use as a blanket. While American Airlines provided me with a blanket, it was thin, and I needed more warmth.
Also, I visited Disney World (in Florida) in March, and totally needed a light jacket for nights, which I didn't pack.
I was so cold that I almost spend $50 on a jacket in the theme park.
So, yeah.
Just bring a light jacket to carry, even if you're traveling somewhere warm.
Some people consider this a HUGE no-no.
I, on the other hand, think that it's not that big of a deal.
I thought that the lady next to me was going to tell me off and then insist that I put my shoes back on.
However, she had taken hers off, too, so she totally understood.
Still, there's a reason people usually don't like it when other passengers do this, and it's because feet tend to stink.
So, to keep your feet from smelling, wear wool socks or socks made for working out in. These generally don't hold smell like regular socks, allowing you to take your shoes off without annoying anyone!
Now, whatever you do, don't take your socks off!
Also, put your shoes on when you go to the bathroom!!!
Those airplane bathrooms are nasty as hell.
Download Movies Just In Case
When I flew with American Airlines to Ireland, I didn't have to pay for movies. However, I don't know if this is standard or has something to do with the ticket I used.
As I have mentioned, I haven't been on any other international flights, so my experience is a bit limited.
I would recommend that you download some movies onto you phone, tablet, or laptop before arriving at the airport.
This way, you will definitely have some movies that you'll actually enjoy queued up and ready to go.
Plus, Netflix makes this super easy.
Depending on the airline and the price of your ticket, the airline might supply you with earplugs.
But, you should bring some anyway.
The ones that American Airlines gave me were terrible.
I used the ones I brought instead, and they worked so much better!
It seriously made a world of difference.
If you're not used to sleeping with earplugs in, you might want to try them out for a night or two before you get on the plane because they can be a bit uncomfortable if you're not used to them.
I usually purchase Mack's earplugs. You can find them at any drug store, Walmart, or Target.
If you're sensitive to light, you'll definitely want one of these.
While the flight attendants do turn off the bright cabin lights, some people who are sitting close to you might turn on their overhead light while you're trying to sleep.
Personally, light doesn't really both me, so I didn't bring one, nor did I regret not bringing one.
You've heard about the dreaded blood clots, right? The ones you can get from sitting on a plane too long too often?
Well, compression socks will help prevent those.
Don't let this scare you, though.
This is something that can happen over time.
Just make sure that you're aware of it, and take the necessary steps to prevent.
There's one more thing you can do to help. It's listed next.
Periodically, you should really stretch your legs by taking a walk around the cabin of the plane.
I understand that you might have to make someone move for you to make this happen, but it's seriously not a big deal.
If you want to cut down on the number of times you ask them to move, just walk around for a couple minutes on your way to or from the bathroom.
It might feel a little odd walking around the plane, but I promise it's not!
Just a little note from captain obvious: make sure that the seat belt sign is off before getting up.
I can give you 1,000 awesome tips for getting comfortable on your long haul flight in economy, but you'll still be miserable if you bring a bad attitude.
You need to understand that you likely won't be completely comfortable.
There's nothing about sitting on a plane that is comfy (unless you like snuggling up with strangers; I mean, you do you).
If at any point you get uncomfortable and irritable, just take a deep breath and remind yourself that it's only temporary. (Also, this is a good moment to take a walk.)
Then, you can think about all the fun you'll have in your destination.
I used to think that neck pillows were just something that inexperienced travelers bought.
I was sorely wrong.
I wish I had bought a neck pillow!!!
Sleeping is difficult when you head is rolling all over the place. (It kept waking me up!)
For my next long haul flight, I will definitely be purchasing a neck  pillow, and I highly recommend that you do the same.
Even the $20 price tag at the airport is worth it!
However, you can pick one up for a lot cheaper on Amazon!
Long Haul Flight Essentials
We essentially already covered some of the items on this list in the previous section, but I think it's important to put it into a short, easy to read list for you.
Wear Compression Socks
Bring a Couple Snacks (protein bars and nuts are my favorite)
Phone and Laptop/Tablet Charger
External Battery (Most planes that are making long haul trips are equipped with charging ports, but I always like to bring this just in case.)
Light Jacket (if you aren't carrying a coat)
Lotion
Neck Pillow
Eye Mask (if you're sensitive to light)
Ear Plugs
Downloaded Movies on Your Phone/Tablet/Laptop
How to Choose a Comfy Outfit

Choose stretchy pants (like leggings), a tunic top, and shoes that will serve you well in your destination.

How to Pack a Carry On Only

Make sure you check the weather and pack accordingly. Definitely pack versatile items. Use packing cubes to help organize everything. Try not to pack shoes. Leave the shampoo and conditioner at home.

Top Tips for Getting Comfy on the Flight

Use your personal item as a footrest, bring a light jacket (if you're not carrying a coat), take your shoes off, download movies, bring earplugs, and bring a neck pillow!
Related: How to Find Unbelievably Cheap Flights In No Time
I hope that you found this post incredibly helpful.
At this point, you should feel well prepared for your long haul flight in economy!
Don't be nervous.
You might get a little uncomfortable, but just remember that it's only temporary, and you'll be fine!
Did you love this post?
Share it with your friends!
Talk soon!